"Action" activists from Khmelnytsky: "Victory!"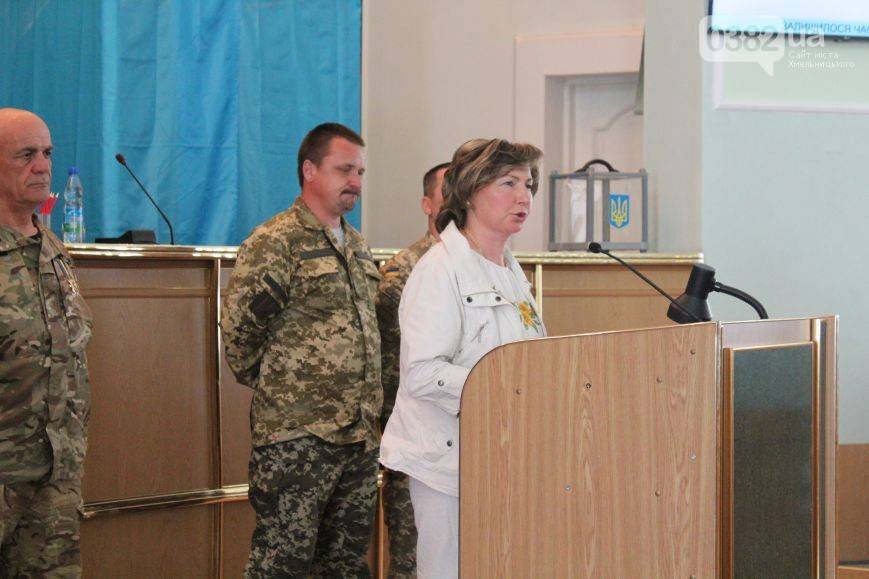 Today, on June 1, the "Action" National Movement activists picketed Khmelnytsky Regional Council to acknowledge volunteer combatants.
About fifty activists of the National Movement "Statehood initiative by Yarosh " from Khmelnytsky, Ternopil, and Rivne regions as well as the city public came to defend the honor and dignity of the battalions fighters from UDA, UNO, "Aydar", and the "Right Sector". After all, these volunteers from the first days of the war came to defend the homeland, but still are not recognized by the state and have no official status.
The coordinator of the Khmelnytsky National Movement "Action" Valentine Bazyliuk appealed to the deputies: "Who is to know better than us as who was the first to take the arms and defend our land? These are our volunteers. These are our glorious cyborgs. These are our glorious sons of Ukraine. You know that Dmytro Yarosh have brought up the draft decision to the Parliament, but our ranks at the top refused it. They need neither volunteers nor the Patriots, they do not need the nation, they do not need Ukraine! That's why we do this nationwide event. Many activists and civil society organizations signed up the draft decision supporting it. In each area the activists of the National Movement "Action" will be bringing the same decision to the session."
The activists offered the deputies to vote for the developed by the "Action" lawyers draft decision "On the status of war veterans who were volunteer combatants ...". This document is intended to locally recognize volunteers who participated in the ATO area fighting as fighters for freedom and independence of Ukraine with the appropriate support and official status. "In 40-s of the twentieth century there occurred a similar situation, when the true brave warriors of UPA voluntarily came to defend Ukraine and 40 years later they were called bandits. It is important that this does not happen again with Ukrainian volunteers of the XXI century. Because of this we need a bill from the Verkhovna Rada of Ukraine which fully legalizes the military status of our defenders, "- said the coordinator of the Rivne city branch of the National Movement "Action" Igor Ljulka who also with his fellows joined the action. Finally a step to recognize soldiers who were volunteer combatants is being made in Khmelnytsky.
After convincing words of the Nationalists, the deputies unanimously (80 members) voted for adoption of the draft that would finally protect volunteers who for over two years protect the sovereignty and independence of the Ukrainian state.