NM "DIYA" mobilizes the volunteers' detachments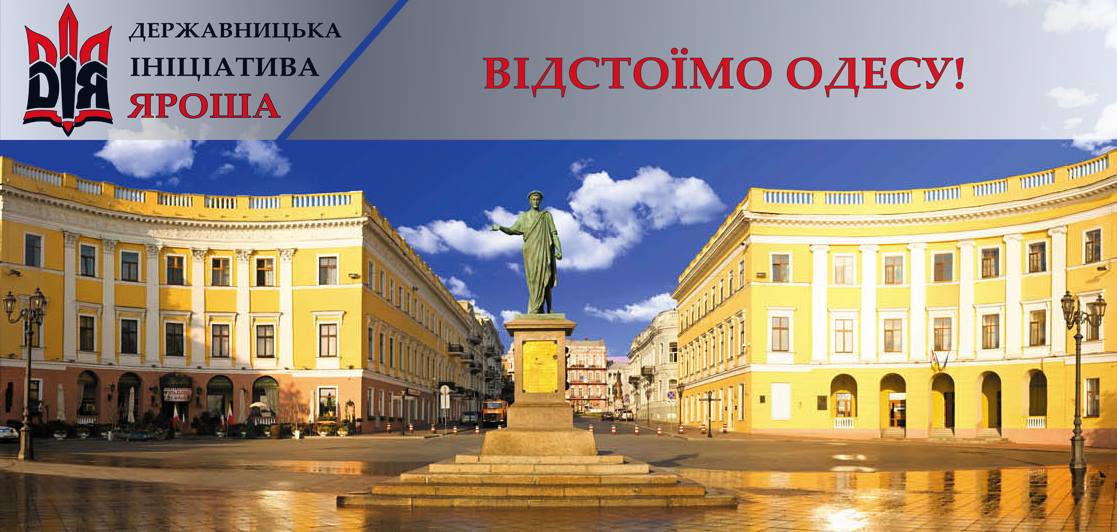 The National Movement "The Yarosh Statehood Initiative" and the Ukrainian Volunteer Army will not allow the new acts of May provocations in Odesa.
On May 2 everyone in Ukraine will commemorate the victims in a catastrophe that was organized by the Kremlin secret services 2 years ago in Odesa. Then, 46 people died and 200 suffered injuries as a result of clashes and fire in the local Building of Trade Unions. The enemy has pursued the specific goal: to destabilize the situation in region, to create panic, to instill fear on the residents of Odesa, and at the final result to repeat a scenario that has happened in Donetsk and Luhansk Regions with further development of separatism and formation of quasi-republics.
One year ago the Ukrainian patriots with a help of law enforcement officers didn't allow such Kremlin scenario to happen. However, we do not exclude that the Russian terrorist groups would try to take revenge and provoke the new clashes of a greater scale on a commemoration day of May tragedy in Odesa. Therefore, the activists of National Movement "The Yarosh Statehood Initiative" and the warriors of territorial defence units of the Ukrainian Volunteer Army are brought into the state of full readiness with the possibility to respond any moment to provocation in Odesa and to repulse the enemy. In particular, "DIYA" in the regions of Lviv, Ivano-Frankivsk, Khmelnytskyi, Ternopil, Dnipropetrovsk, Bukovyna, Volyn, Rivne, Zhytomyr, Chernihiv, Donetsk, Kharkiv and Sumy have already mobilized their active part. Hundreds of concerned citizens are ready at any moment to go and help their fellows in Odesa.
Do not allow the new manifestations of separatism to happen in Odesa and all territory of Ukraine! Let us become the obstacle to the plans of the Kremlin dwarf!
Words are not enough - DIYA (ACTION) is required!
Glory to Ukraine!
Central headquarters of Diya
Tags: "ДІЯ" в дії