Medal "For the sacrifice and love for Ukraine"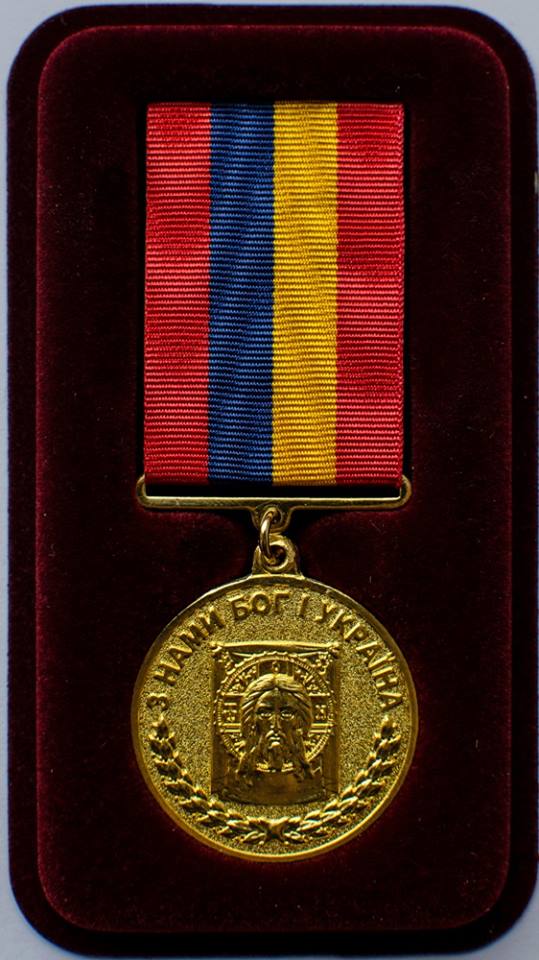 A new church award has been founded - the Medal "For the sacrifice and love for Ukraine with the blessing of Patriarch of Kyiv and All Rus'-Ukraine Filaret in Ukrainian Orthodox Church- Kyiv Patriarchate.
"This medal is awarded to people who have shown active citizenship, heroism, self-sacrifice during the events of the Revolution of Dignity, while defending the Homeland in Donbas and Crimea, as well as volunteer activities.
Today His Holiness Filaret awarded fighters of the UVC 'The Right Sector' these medals. Among them are those who passed Maidan and who were from the beginning of the war in the East, became volunteers of 'The Right Sector'. Most of the awardees are those who fought in Shyrokyno. Separatists called them "Terminator special forces." After their fights, Russian- terrorist mercenaries run away from the position. Among the awardees, there is Oleksander, who was in the hell of Donetsk airport and continue fighting. Michail is a Georgian, who helps us to defend independence. Volodymyr is the commander of the group who took part in almost all battles of the Right Sector. His knee was injured in the protection of Savur-Mohyla. He was operated and returned to the front. Olexander is at the war from the start, an accurate sniper. Andriy is brave, courageous; they say about him - "gunner- sniper", because the goals that he destroyed with a gun impressed by its accuracy. Dmytro is a balanced and clear strategist. These people have families at home, beloved wives or girlfriends, little children. Those are fighting for Ukraine without recognition and wages. Those are proudly the best sons of the nation.