Sequence of Events on the Border with Occupied Crimea (Updated)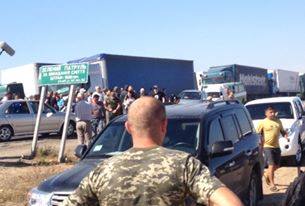 14.10. Media reports that the trucks continue moving through one of the checkpoints. The border guards are trying to run them through as fast as possible to the occupied territory. This information is being clarified.
13.36. At the checkpoint of Chaplynka there are about 150 trucks.
13.20. "The Right Sector" blocks the road from the village of Chaplynka to Armyansk.
On September 20, an action to blockade the occupied Crimea has been launched.
The preparations are in process since morning. The direct blockade of the three roads leading to the occupied peninsula started at 12 o'clock.
To enhance the efficiency and ensure the safety of civilian protesters, "The Right Sector" has sent about a hundred fighters of the Ukrainian Volunteer Corps.
The actions of activists and fighters of "The Right Sector" are being coordinated by the operational command unit, headed by Friend "Horvath". The overall coordination of all structures of "The Right Sector", involved in the blockade, is conducted by Andriy Stempitskyy ("Letun"), the UVC Commander.
During the time of this action, the rotation of activists and fighters of "The Right Sector" is being planned.
The presence of nationalists at the action is needed, because there are reasons to believe that the Poroshenko's regime will try to convert this action into "the window dressing".
As of the evening of September 20th, the Right Sector has already set up 2 checkpoints on the border with the Crimea: in the villages of Chonhar and Chaplynka. Therefore, traffic of trucks going to the occupied territory is completely blocked.
Addition: Some Ukrainian media spread the information that in the vicinity of Kalanchak, Kherson Region, some trucks were allowed to proceed to the occupied territory. The commander of the Volunteer Corps "The Right Sector" A. Stempitsky, who was at the checkpoint all day, denied this information and suggested that there might have been isolated cases of possible passage of trucks exclusively before the checkpoint was set up - in the morning. However, none of the trucks could pass the checkpoint while the Right Sector was in control.