Continuing to build the new Movement of Dmytro Yarosh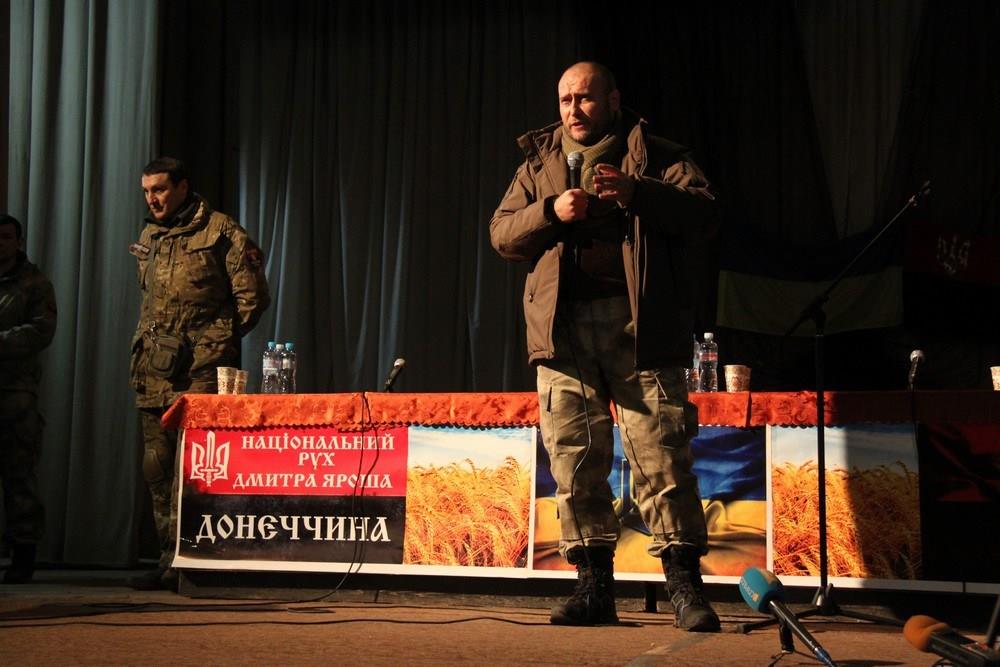 On February 5, the Leader met with activists in Krasnyi Lyman (from now - just Lyman!) and Kramatorsk.
The first meeting took place in a small room in Lyman. It gathered local civic activists, small entrepreneurs, teachers, etc. – those with patriotic views and are respected in the community. There were people from Lyman, as well as residents of Bakhmut, Svyatohorsk and internally displaced people from the occupied territories.
The meeting was relaxed and sincere in the chamber atmosphere. People asked what interested them. The Leader reasonably and honestly answered. The most popular question was why Right Sector split into two structures, what should be done to return Donbass, whether 'people of Yarosh' continue to fight at the front line and on what basis, what policy changes could the Ukrainian society expect, how to deal with local corrupt persons on which is no council, and so on.
There were also questions about financial resources of the Movement (we look for resources, focusing primarily on small and medium business) and whether Dmytro Yarosh considers the current government as a regime of internal occupation (he answered that clearly considers because it consists of oligarchs robbing the Ukrainian people).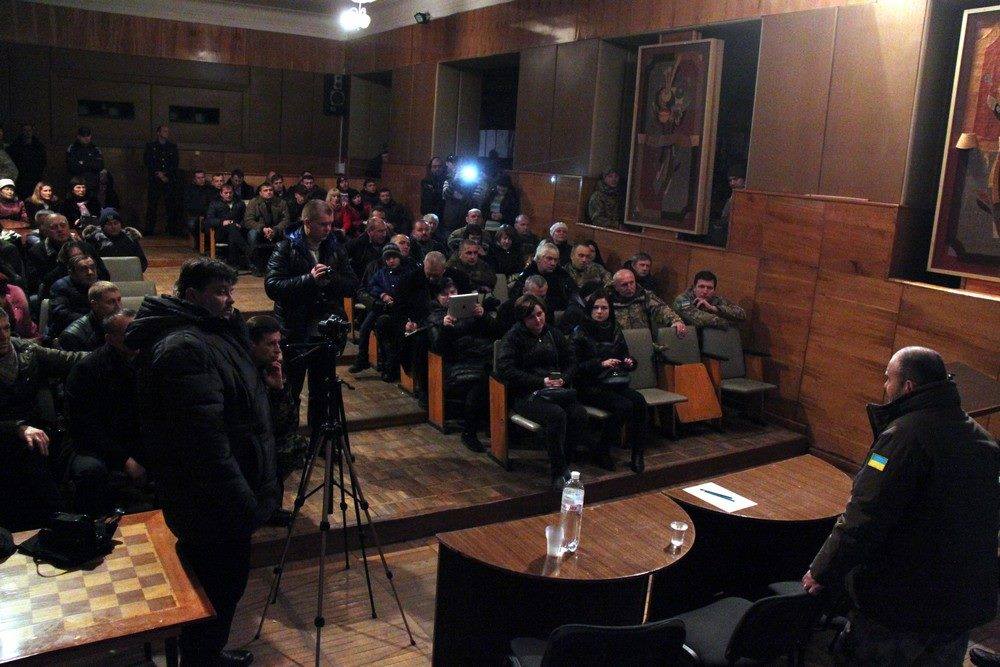 A great hall in the culture center Budivelnyk was full in Kramatorsk. Dmytro Yarosh began with a short speech. He explained why there was a need to create the new movement – wide, oppositional, but constructive. He focused on problems of the Ukrainian army and civilian life. These problems unite patriots of all views.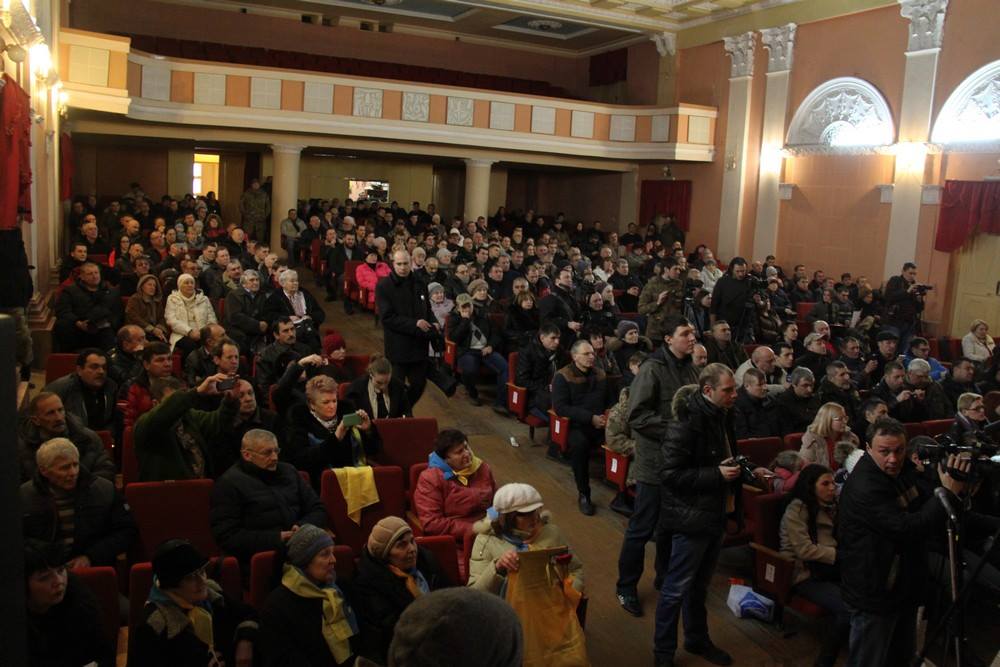 The priest from Konstantynivka made a present to Dmytro Yarosh - the red-black flag- with the condition that the flag would fly over Donetsk. The Leader took the present and kissed it.
It was a little bit different meeting. The Leader told more jokes, people laughed more and applauded more. Their issues often dealt with personal problems – injustice, which they faced personally. Here the people came with different problems with the tax agency, failure to receive benefits of honored wounded soldiers, who served in Debaltseve, and complaints that police unjustly accuse people in separatism and demands money. We will help all of these people where possible although the Leader repeatedly stressed that they should not see him as some divine Messiah.
There were funny issues, such as a request to make a "landing" in schools on February 23 to not allow anyone to celebrate the communist holiday. One elderly man read his patriotic poem.
One man asked if Yarosh always fulfills his promises, and Dmytro replied, "I'm trying". He caught Dmytro that he has not quit smoking, and he solemnly promised to do it in fasting.
Saakashvili, what to do if the police persecute patriots, similarly to Oleg Muzhchyl, about imprisoned volunteers. The Leader answered that volunteer fighters were not always angels, there were different, but the tendency is impressive, he took on bail many prisoners, found advocates...
There were questions about why Yarosh "retreated" from nationalist ideology, inviting liberals to the new movement. Dmytro said that he was, is and will die a Ukrainian nationalist, but Maidan and war convinced him that we can only win together, we can and must unite liberals and nationalists, and this does not contradict what Bandera said, and as it was in the purely nationalist OUN (Organisation of Ukranian Nationalists).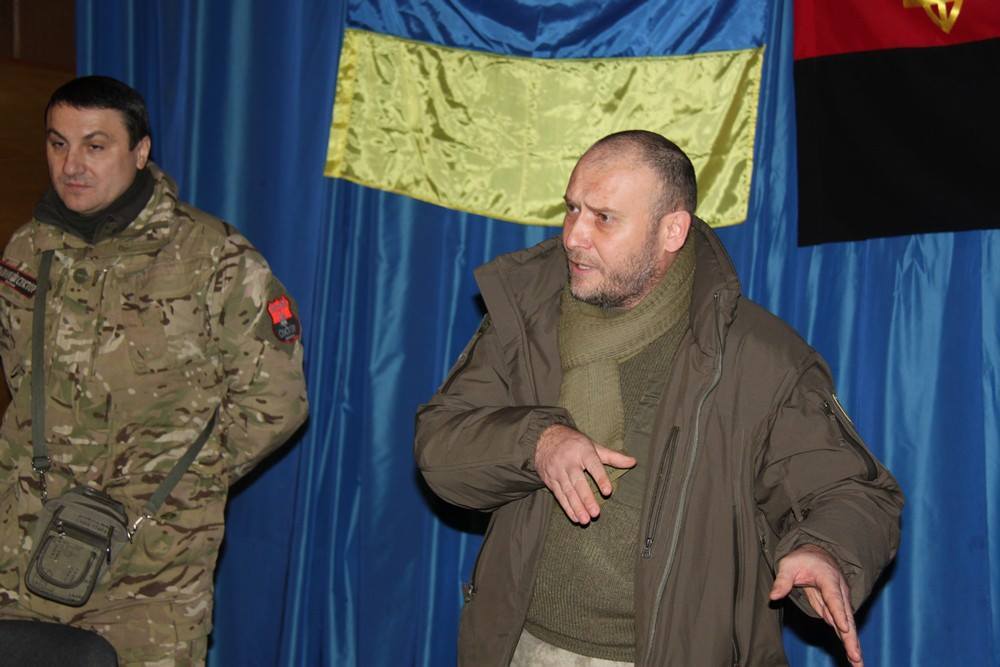 Among important matters are two things. First, the phrase of Dmytro Yarosh that he does not see a real political force that now could do a reboot. 'We are now forming such a force. Because you can call people to the barricades again and bring tramps to power, like 'a bullet in the forehead.' He clarified that the building of the Movement would take several months.
Secondly, during both meetings Dmytro answered a question, who is an alternative to Petro Poroshenko. The Leader for the first time publicly stated that he would participate in the next presidential elections. Therefore, he represents an alternative to the current president. People applauded.
Initiative groups are being formed. Working trips and meetings go on. The work goes on.
Olena Bilozerska on the scene