Ivano-Frankivsk cell reports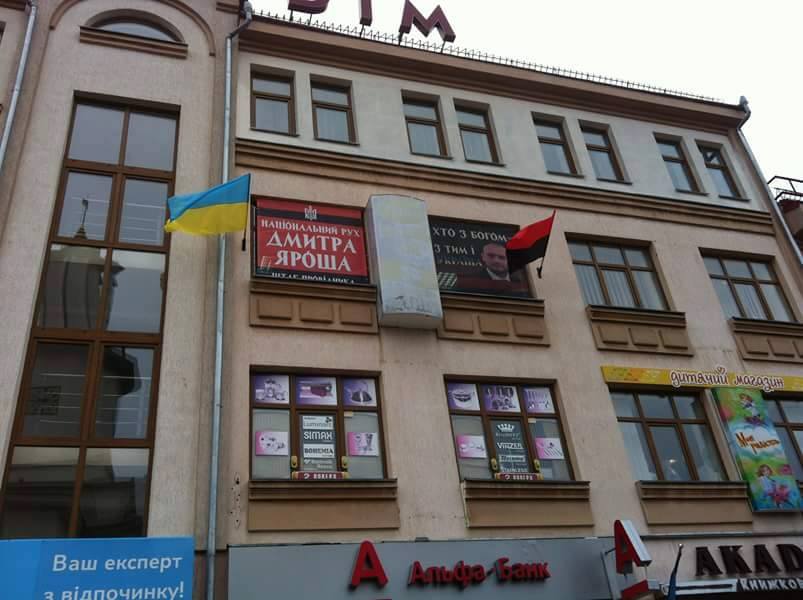 A press conference of the initiative group on creation of the National Movement of Dmitry Yarosh was held in the headquarter of Dmytro Yarosh on the Market Square, 14, in Ivano-Frankivsk. Vasyl Abramiv, a member of the nationwide initiative group on creation of the National Movement of Dmytro Yarosh, Maksym Shvets, the head of the Mobilization Center to Ukrainian Volunteer Army, and Taras Schneider, a coordinator of the Movement in Ivano-Frankivsk answered journalists' questions. They declared the goal of the national patriotic movement. It is to maintain the existing state as a springboard for obtaining the Ukrainian statehood and hold its revolutionary change that will provide freedom, justice, and prosperity to Ukrainian people. Our movement is based on the Ukrainian nationalism postulates of Stepan Bandera..
It is planned that the Movement will include civic organizations, the military wing - Ukrainian Volunteer Army and a political party. Each component will solve a range of issues. A call to all patriots of Ukraine to participate and to help to carry out revolutionary changes in the country was told. The financial basis of the Movement is planned to be provided by SMEs and a wide range of activists without oligarchic groups. The fight against corruption, combating stealing or inefficient use of budgetary funds, social problems, as many of our fellow citizens find themselves below the poverty line, and a wide range of other issues will be a priority for the Movement. The Movement wants to deal with the range of other problems, such as to make the necessary changes to the young and successful people to stimulate them not to leave our country, to make Ukraine a habitable and promising country, whose citizens have confidence in the future.
Maksym Shvets, the director of Mobilization Center and combatant in Donbas, spoke about the creation of Mobilization Center to Ukrainian Volunteer Army in Subcarpathia. Volunteer fighters will be selected daily at the headquarters of the Leader in the form of an interview. Initiative groups of activists creating the Movement in regional centers will delegate those, who wish to join Ukrainian Volunteer Army to the regional headquarters. Volunteers will necessarily complete a combined training (body, spirit, and special tactical skills) on the training base. After the selection and achievement of a certain level of skills, volunteers will be sent to combat battalions to deepen military knowledge and combat coordination of specialization.
To contact:
HEAD-QUARTER +38 068 815 15 43
MOBILIZATION +38 097 471 24 46