The leaders of the National Movement "Action" visited Odessa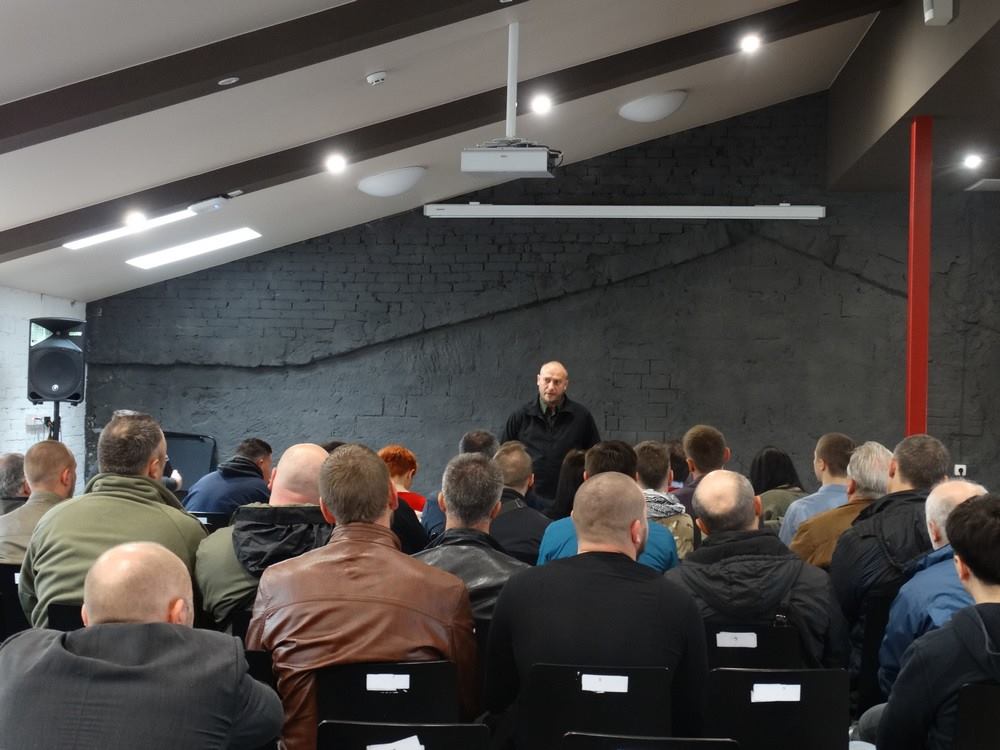 A meeting of the leader of the National Movement "Action" and the head of the public-political platform of the movement Andrij Sharaskin, aka "Bohema", with the public organizations, activists, journalists and representatives of the small and middle class business of Odessa and Odessa region took place on April 11 in Odessa. The meeting was held in a warm atmosphere of the co-working center "Terminal 42". During the meeting Natalia Kruchinina was introduced as the Coordinator of the National Movement "Action" in the Odessa region. Dmytro Yarosh told the participants about the movement "Action", which is now established as a broad right oriented initiative, and answered numerous questions from the activists.
Odessa residents, as well as residents of other regions of Ukraine, wondered whether the movement is funded by Igor Kolomoisky. That statement was categorically denied by Dmytro Yarosh. His principle position is that money from oligarchs could only be taken for war, but not for politics, in order not to owe them anything.
And there were, of course, specifically Odessa type questions: for example, what does Dmytro Yarosh think on the fact that the mayor of Odessa is a separatist with Russian citizenship. Dmytro said that people like Trukhanov and Kivalov are represented in all the regions of Ukraine, but should instead be sitting in a prison. "These ugly faces of democracy are not appropriate during the war. When the boys are killed at the front line, but the people who provoked this war are sitting in Parliament, or in the mayoral seats – it is not normal. Unpunished evil multiplies. Our initiative will oppose this revenge at all levels, by all possible means."
The leader was also asked about his opinion on the march, which was held on the day of Odessa liberation by pro-Russian elements, and about the police beating the activists who tried to stop the "separatist's" march.
Dmytro Yarosh said that the state should conduct a competent information policy to convince not pro-Ukrainian minded residents, who could be persuaded. And those who cannot be persuaded should be deprived of citizenship. Because it is not normal during the war when in the rear people are wearing Russians flags and ribbons, provoking patriots for a fight, advantage of which is taken by the aggressor country. "The state must have a clear position on this issue. We oppose to these happenings; we show it at the front line every day." As for the conduct of law enforcement officers, Dmytro Yarosh, giving high marks to the new patrol police in general, believes that those police officers who beat pro-Ukrainian activists, should be fired, no matter to what type of police they belong.